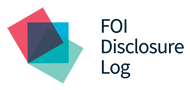 Publicly available information released following an FOI access request
Commonwealth Superannuation Corporation (CSC) is required by section 11C of the Freedom of Information Act 1982 (FOI Act) to publish a disclosure log on its website. The disclosure log lists information which has been released in response to an FOI access request. The disclosure log does not include:
Personal information, or information about the business, commercial, financial or professional affairs of any person if publication of that information would be unreasonable,
Other information that the Australian Information Commissioner determines is unreasonable to publish, and
Any information not reasonably practicable to publish due to the extent of modification that would need to be made to delete the above information.
The information in CSC's disclosure log has been released by CSC under the FOI Act and is available for public access. CSC will endeavour to publish all documents released in response to FOI access requests in the disclosure log. However, certain technical limitations (such as file size or format) may preclude this. These documents may be obtained by contacting us via FOI@csc.gov.au
CSC's disclosure log