Training & education
We run regular employer training sessions across the country to help you understand and streamline your super obligations.
We want to hear from you!
We're exploring a return to face-to-face training sometime in 2021. Let us know if you're interested in so we can plan our year according to your needs.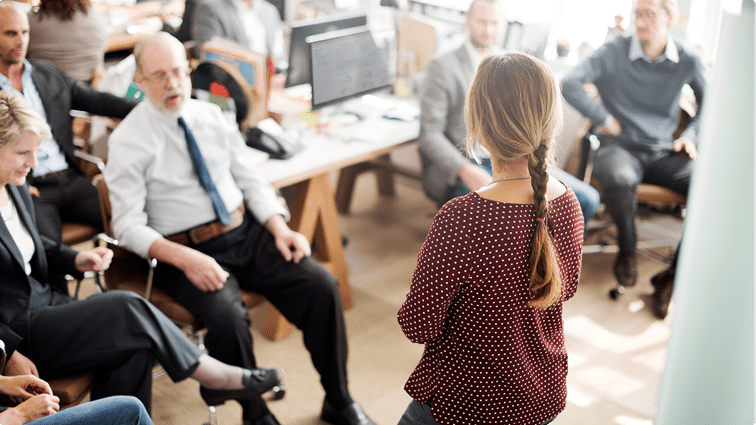 We're here to help
We run regular employer training sessions across the country to help you understand and streamline your super obligations. We offer general and specialised training to ensure you fulfil those obligations effectively and efficiently. We provide training sessions face-to-face at our dedicated training facilities at 7 London Circuit Canberra or at your office, whichever is more convenient for you. We can also provide training sessions via videoconference. Training sessions are offered to:
Payroll and Recruitment teams
Human Resources Practitioners
Rehabilitation Case Managers and Workplace Health and Safety Representatives
Managers and Senior Executives
What topics do we cover?
Payroll and recruitment topics
Our payroll and recruitment topics are designed for anyone who needs an understanding of our schemes to start new employees, pay super contributions or complete salary reviews. The topics covered include:
Introduction to super for government employees
Scheme eligibility and recommencement rules
Super contributions
Casual members and part-timers
Leave
Salary for super and salary reviews
Shift allowance
We recommend a full day to cover all topics except shift allowance. Shift allowance is a complex topic that adds an additional 2 hours to any training schedule. We are happy to explore the training structure to best suit your needs and time.
Human resources topics
We offer a high level overview of super that is designed for Human Resources Practitioners or similar. This cover the key moments in your employee's journey from recruitment to retirement, and shows how we work together to support them. Topics covered include onboarding, growing super benefits, ceasing employment and life beyond employment.
Invalidity and insurance topics
Our invalidity and insurance training is designed for anyone who assists CSS, PSS and PSSap customers when they become sick or injured. The topics covered during the session are:
Invalidity retirement for CSS, PSS and PSSap customers
CSS and PSS pre-assessment payments
CSS and PSS partial invalidity pensions
PSSap insurance – lifePLUS cover
These topics dive into what invalidity and insurance options are available, their eligibility requirements, how to submit an application and what information you need to support that application. We also briefly touch on how the payments work.
Timings of invalidity sessions vary based on the group size and knowledge levels. We recommend a full day to properly cover all topics, but we are happy to discuss the timings and make adjustments to better suit your availability.
We also have a session about invalidity and insurance designed specifically for payroll. The topics covered surround calculating and reimbursing pre-assessment payments and partial invalidity pensions and payroll's involvement in PSSap invalidity matters. This session is typically 3 hours long.
If you are only after a brief session about invalidity and insurance for our CSS, PSS and PSSap customers, talk to us about our 60 minute overview session.
Are you interested in training?
Send us an email with your contact details, a brief overview of what your team does and the training you're interested in. Make sure you include where you'd like to train – our office or yours. We'll be in touch soon after so together we can find the best solution to your training needs.
Meet our trainers
John Ayton

John is one of CSC's Employer Trainers. He specialises in helping our employers' HR and payroll teams navigate their super obligations through all stages of their employees' journeys.
Before joining his current team, John worked with our customers across a range of roles within CSC including the Customer Contact Centre, Quality Management and Customer Care teams.
John knows the world of super can be complex and confusing at the best of times, so he strives to create content and training packages that make super easy to use and simple to understand. He is passionate about guiding our customers to make the most of the products and services we offer.
When he's not talking super you might catch John doing volunteer work at various sports matches and events around the Canberra region. He loves gaming (across all three consoles), reading, movies and all other facets of pop culture. He loves to experience new languages, cuisines and cultures, and is always happy to share his inside knowledge of cities around the world.
Siobahn White

Siobahn is an Employer Trainer at CSC. She helps our employers understand the insurance and invalidity options available to our members when they fall sick or are injured.
Siobahn has 10 years of experience in the super industry, and has specialised in invalidity and insurance matters for the last 7 years. She also has a Bachelor of Laws.
Siobahn is passionate about giving our employers the knowledge and tools to be able to support their sick and injured employees when it comes to super. She wants our employers to feel empowered when it comes to helping their employees by making sure they know what's on offer through our super funds.
Outside of work, Siobahn is the Volunteer Coordinator for Canberra's Mother's Day Classic. She currently has an obsession with indoor plants (she's made her home into quite the colourful jungle) and loves to curl up in her favourite armchair with a good book and hot cup of tea. She's a traveller at heart and is always planning her next overseas trip – know any amazing places she needs to put on her list?