How we invest: a guide to risk-adjusted returns
Risk-adjusted returns are a crucial part of our investment strategy. Learn what 'risk-adjusted returns' means, and how they can help you secure a comfortable retirement.
Every investment portfolio comes with an element of risk, and super is no exception. We care about the risks and costs that you're exposed to as you grow your super, and this helps to shape our investment approach.
To help you reach your retirement goals, we continually assess investment opportunities through the lens of risk-adjusted returns net of fees.
What does 'risk-adjusted return' mean?
Simply, risk-adjusted returns are the profits you get from an investment, while considering the risk taken to get them.
The term Risk-Adjusted Returns could be crucial to your future. Learn how risk-adjusted returns attempts to mitigate risk to ensure when you arrive, you can retire comfortably.
How do we approach risk-adjusted returns?
We focus on achieving sustainable retirement outcomes for you by investing in high quality businesses to grow your super, and we consider long-term risks holistically to avoid losses.
In comparison to other super funds, we tend to suffer fewer or smaller losses when the markets are falling. Here's an example using the PSSap Balanced option from when it started, compared to global shares markets.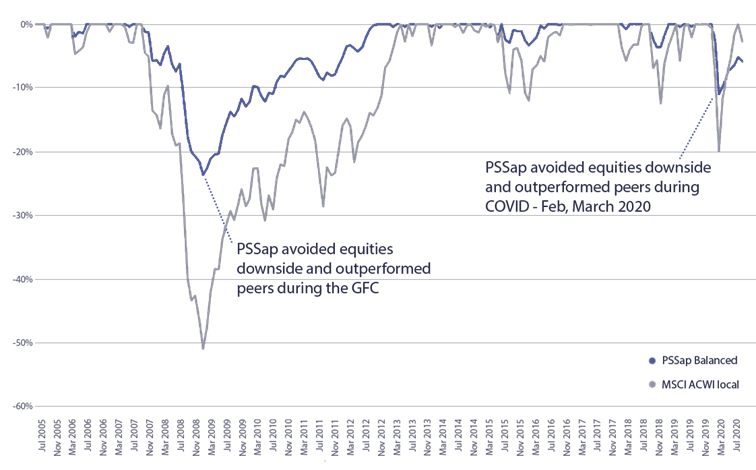 PSSap Balanced drawdowns vs equities market
We manage the downside
Focusing on avoiding the downside risk is important, because the impact of gains and losses are not equal. For example, say markets fall by 20%, a portfolio of $100 will fall to $80, but it will take markets to rise by 25% to restore the original value of $100. The larger the losses, the greater the gain needs to be to restore value (for example, a 30% loss will require a 42.8% gain). Apply this to your super, and you can see why we purposefully take less risk in our balanced option—to try to protect your money as well as growing it.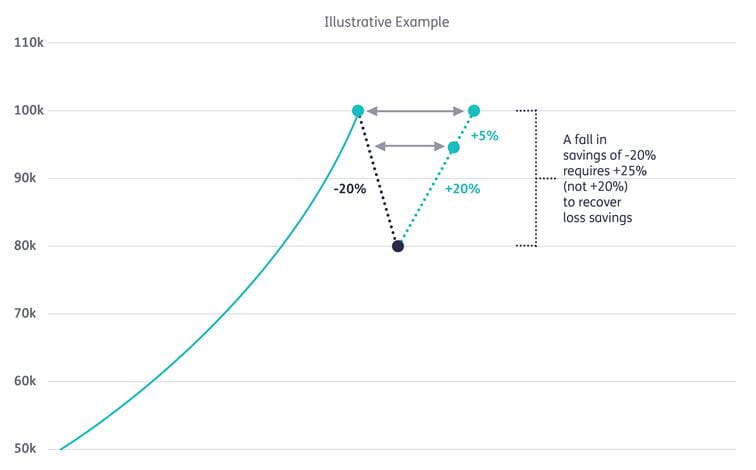 Here's an example
A fall of 20% requires growth of 25% (not 20%) to recover loss savings
Investment performance is subject to market volatilities and past performance is not an indicator of future performance. This example is not intended to be relied on for the purposes of making a decision in relation to a financial product. In making any decisions about your superannuation or your retirement you should consider your own objectives, financial situation and needs, and you should not rely solely on the illustrative example. You should consider getting advice from a licensed financial advisor before making any financial decisions.
Next in our investment series...
How we invest: a guide to active ownership
What is active ownership? And how does it benefit you?
Find out more
Retiring comfortably at a time you choose
Here's what we are doing to help ensure you receive a 'comfortable retirement standard' by the time you turn 65.
Find out more
Next I'd like to...
Our Investment Philosophy
Our investment purpose is to provide sustainable retirement outcomes to Australian public service and defence customers, and your families.
Learn more
Benefits for customers
Our investment purpose is to grow the superannuation savings of our customers, so that you can achieve sufficient and sustainable income in your retirement.
Read more